Linedef type 102
From SRB2 Wiki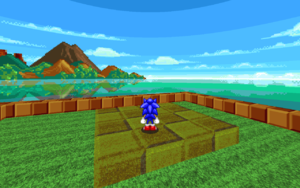 Linedef type 102, Solid, Translucent, is a basic type of floor over floor block which is translucent. It is often used to create windows. The GLASSTEX and GLASS3 textures are good for this purpose.
Setup
The flats, floor height, and ceiling height of the FOF are determined by the flats, floor height, and ceiling height of the control sector, and the sidedefs of the FOF's walls are determined by the sidedef of the controlling linedef.
The alpha value of this FOF's translucency can be changed by setting the control linedef's front side upper texture to the number symbol (#), followed by a three-digit decimal number, from 000 to 255. #000 is completely invisible, whereas #255 is completely opaque. Note that in the Software renderer, there are actually only eleven different values: #000–#011, #012–#037, #038–#063, #064–#088, #089–#114, #115–#139, #140–#165, #166–#191, #192–#216, #217–#242, and #243–#255, where #000–#011 is invisible, and #243–#255 is opaque. The advantage of using the completely opaque values is the ability to properly render flats which use transparent pixels. If no value is set in the front side upper texture, however, the default alpha value of #128 will be used.
If the Not Climbable flag is checked, the inside of the FOF will be rendered as well.
 

Linedef special info

Floor height

Height of bottom of FOF

Ceiling height

Height of top of FOF

Front upper texture

Alpha value of FOF's translucency, from #000 to #255 (#000 is completely invisible, #255 is completely opaque, #128 is default)

Linedef flags

Not Climbable: Inside of FOF is rendered
 

FOF info
Tangibility

Solid

Visibility

Translucent

Shadowcasting

No

Specials

None

Flags

FF_EXISTS, FF_SOLID, FF_RENDERALL, FF_NOSHADE, and FF_TRANSLUCENT.

Additional flags

FF_EXTRA and FF_CUTEXTRA – Without flags
FF_CUTLEVEL, FF_BOTHPLANES, and FF_ALLSIDES – Not Climbable

Custom FOF value

195F – Without flags
95DF – Not Climbable
Sample
Example WAD: ex_ld102_fofsolidtranslucent.wad
 
Linedef types – Floor over floor
[view]
Solid:
Solid, Opaque, Shadowcasting • Solid, Opaque, Non-Shadowcasting • Solid, Translucent • Solid, Sides Only • Solid, No Sides • Solid, Invisible • Intangible from Bottom, Opaque • Intangible from Bottom, Translucent • Intangible from Bottom, Translucent, No Sides • Intangible from Top, Opaque • Intangible from Top, Translucent • Intangible from Top, Translucent, No Sides • Only Tangible from Sides

---

Intangible:
Water, Opaque • Water, Translucent • Water, Opaque, No Sides • Water, Translucent, No Sides • Goo Water, Translucent • Goo Water, Translucent, No Sides • Intangible, Opaque • Intangible, Translucent • Intangible, Sides Only • Intangible, Invisible

---

Moving:
Air Bobbing • Air Bobbing (Adjustable) • Reverse Air Bobbing (Adjustable) • Floating, Bobbing • Rising Platform, Solid, Opaque, Shadowcasting • Rising Platform, Solid, Opaque, Non-Shadowcasting • Rising Platform, Solid, Translucent • Rising Platform, Solid, Invisible • Rising Platform, Intangible from Bottom, Opaque • Rising Platform, Intangible from Bottom, Translucent

---

Crumbling:
Crumbling, Respawn • Crumbling, No Respawn • Crumbling, Respawn, Intangible from Bottom • Crumbling, No Respawn, Intangible from Bottom • Crumbling, Respawn, Intangible from Bottom, Translucent • Crumbling, No Respawn, Intangible from Bottom, Translucent • Crumbling, Respawn, Floating, Bobbing • Crumbling, No Respawn, Floating, Bobbing • Crumbling, Respawn, Floating • Crumbling, No Respawn, Floating • Crumbling, Respawn, Air Bobbing

---

Special:
Light Block • Half Light Block • Fog Block • Mario Block • Thwomp Block • Shatter Block • Shatter Block, Translucent • Bustable Block • Spin-Bustable Block • Spin-Bustable Block, Translucent • Quicksand • Laser • Custom FOF