Linedef type 200
From SRB2 Wiki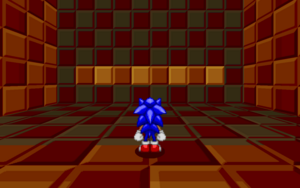 Linedef type 200, Light Block, is a type of floor over floor block which alters the light level in a specified area. The light block itself cannot be seen, only the flats, textures and Objects that are affected by it. It is useful for creating bottomless pits in which the light level fades as the player falls, which is achieved by stacking light blocks of progressively higher light levels above a death pit.
Setup
The floor height and ceiling height of the FOF are determined by the floor height and ceiling height of the control sector. The light level of the control sector determines the light level of the light block.
 

Linedef special info

Floor height

Height of bottom of FOF

Ceiling height

Height of top of FOF

Sector light level

Light level of light block
 

FOF info
Tangibility

Intangible

Visibility

Semi-Visible

Shadowcasting

No

Specials

No

Flags

FF_EXISTS, FF_CUTSPRITES, and FF_DOUBLESHADOW.

Custom FOF value

20201
Aesthetic tips
It is strongly recommended that light blocks touch or overlap at least one wall or flat within a sector. Otherwise, the light block's effect will not be noticeable until a player passes through it, which is unrealistic because the light will not have any visible source or surface to reflect on.
Sample
Example WAD: ex_ld200_foflightblock.wad
 
Linedef types – Floor over floor
[view]
Solid:
Solid, Opaque, Shadowcasting • Solid, Opaque, Non-Shadowcasting • Solid, Translucent • Solid, Sides Only • Solid, No Sides • Solid, Invisible • Intangible from Bottom, Opaque • Intangible from Bottom, Translucent • Intangible from Bottom, Translucent, No Sides • Intangible from Top, Opaque • Intangible from Top, Translucent • Intangible from Top, Translucent, No Sides • Only Tangible from Sides

---

Intangible:
Water, Opaque • Water, Translucent • Water, Opaque, No Sides • Water, Translucent, No Sides • Goo Water, Translucent • Goo Water, Translucent, No Sides • Intangible, Opaque • Intangible, Translucent • Intangible, Sides Only • Intangible, Invisible

---

Moving:
Air Bobbing • Air Bobbing (Adjustable) • Reverse Air Bobbing (Adjustable) • Floating, Bobbing • Rising Platform, Solid, Opaque, Shadowcasting • Rising Platform, Solid, Opaque, Non-Shadowcasting • Rising Platform, Solid, Translucent • Rising Platform, Solid, Invisible • Rising Platform, Intangible from Bottom, Opaque • Rising Platform, Intangible from Bottom, Translucent

---

Crumbling:
Crumbling, Respawn • Crumbling, No Respawn • Crumbling, Respawn, Intangible from Bottom • Crumbling, No Respawn, Intangible from Bottom • Crumbling, Respawn, Intangible from Bottom, Translucent • Crumbling, No Respawn, Intangible from Bottom, Translucent • Crumbling, Respawn, Floating, Bobbing • Crumbling, No Respawn, Floating, Bobbing • Crumbling, Respawn, Floating • Crumbling, No Respawn, Floating • Crumbling, Respawn, Air Bobbing

---

Special:
Light Block • Half Light Block • Fog Block • Mario Block • Thwomp Block • Shatter Block • Shatter Block, Translucent • Bustable Block • Spin-Bustable Block • Spin-Bustable Block, Translucent • Quicksand • Laser • Custom FOF