Linedef type 20
From SRB2 Wiki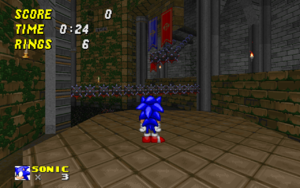 Linedef type 20, PolyObject – First Line, is a type of linedef special which is used on a PolyObject sector to make the game recognize it as such. For more information on setting up PolyObjects, see PolyObject tutorial.
Setup
Only one of these is needed per PolyObject. Assign this linedef action to one of the linedefs on the sector you want to be used as a PolyObject, and set the tag to match the tag of the corresponding linedef type 22 to use for the PolyObject's parameters. Any further properties are determined by this linedef action's flags:
If the Slope Skew flag is set, only the outer sides of the PolyObject are rendered.
If the No Midtexture Skew flag is set, the PolyObject will be intangible.
If the Peg Midtexture flag is set, the PolyObject will stop any movement if it comes in contact with a pushable Object.
If the Solid Midtexture flag is set, the PolyObject's flats will be rendered.
If the Not Climbable flag is set, the PolyObject will execute any trigger linedef whose tag is set to 32000 plus the PolyObject's ID when a player lands on it (as opposed to just standing on the PolyObject, or stepping up/down onto it from elsewhere).
 

Linedef special info

Linedef tag

Tag of the linedef type 22 to use for the PolyObject's parameters

Linedef flags

Slope Skew: Renders outer sides only
No Midtexture Skew: Makes the PolyObject intangiblePeg Midtexture: Movement can be stopped by pushable ObjectsSolid Midtexture: Flats are renderedNot Climbable: Triggers linedef executor when a player lands on it
Sample
Example WAD: ex_ld020_polyobject.wad
---