Nimbus Ruins Zone
From SRB2 Wiki
| | |
| --- | --- |
| | This article or section is incomplete. It doesn't have all of the necessary core information on this topic. Please help the SRB2 Wiki by finishing this article. |

MAPFA, Nimbus Ruins Zone, is the eleventh and last Capture the Flag level in Sonic Robo Blast 2 v2.1. It originally debuted in v1.08, and it is still present in v2.1 with some alterations. The map is made up of small floating platforms over a death pit, which makes it notoriously hard to stay alive. Therefore, it takes quick reflexes on the jump button to get across the stage with any speed. This makes it a very slow-scoring map, and causes many players to choose Tails for this stage.
Layout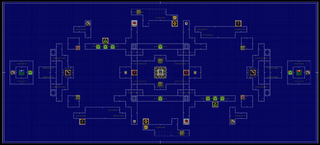 Points of interest
Weapon rings
Monitors
The SRM is located on top of the central tower of the centerpiece. Its base item is a Whirlwind Shield.
One WRM each is located on the platform that, when looking from the bases, extends to the left of the left tower of the centerpiece. Its base item is a Super Ring Monitor.
Playing strategy
Sniping points consist of the central tower and the bridges that connect the towers of the centerpiece.
Instead of taking the whole path around the stage, players may also jump to the centerpiece from the platform with the Rail Ring. This is possible, albeit dangerous, without using a spindash or a special ability, so flag carriers must be careful when attempting this.
Since this stage consists of narrow floating platforms over a death pit, high-knockback weapons like Explosion, Scatter and Rail are very effective because they may knock the opponent into a pit.
Technical data
 

Level header

Level FA
Levelname = NIMBUS RUINS
MusicSlot = 91
TypeOfLevel = CTF
NextLevel = F0
SkyNum = 1


Level name

MAPFA – Nimbus Ruins Zone

Type of level

Capture the Flag

Music

O_MAP91M – Sonic: Emerald Quest – Empyrean's Channel

Sky number

SKY1 – Greenflower Zone

Next level

MAPF0 – Lime Forest Zone