Linedef type 11
From SRB2 Wiki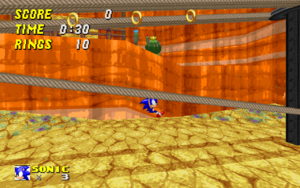 Linedef type 11, Rope Hang Parameters, is a type of linedef special which sets the parameters for hangable ropes, such as the rope pulleys used in Arid Canyon Zone. For information on how to use this linedef type, refer to the rope hang tutorial.
Setup
The tagged sector(s) need to have the Rope Hang sector type. The X distance of the linedef determines the speed at which the rope hang carries the player (8 fracunits of the X distance equal 1 fracunit per tic of speed), while the Y distance of the linedef determines the number of the zoom tube waypoint sequence to use.
The rope hang will loop around the waypoints unless the Slope Skew flag is checked, in which case the rope hang will be one-way. Static rope hangs (like the ladder beams used in ERZ2) can be made by checking the Not Climbable flag.
 

Linedef special info

Linedef X distance

Speed (1 FU/8 tics per FU distance)

Linedef Y distance

Number of waypoint sequence

Linedef flags

Not Climbable: Makes rope hang static
Slope Skew: Doesn't loop movement
Samples
Sample 1
Example WAD: ex_ld011_ropehangparameters.wad
Sample 2
Example WAD: ex_ld011_ropehangparameters_static.wad
---