Icicle Falls Zone
This article or section is outdated and has not been updated to reflect the release of SRB2 v2.2.

Please help the Wiki by correcting or removing any misinformation, as well as adding any new information to the page.
| | |
| --- | --- |
| | This article or section is incomplete. It doesn't have all of the necessary core information on this topic. Please help the SRB2 Wiki by finishing this article. |

MAPF3, Icicle Falls Zone, is the fourth Capture the Flag level in Sonic Robo Blast 2 v2.2. It is a very small ice-themed map, featuring slippery ice and a waterslide. The bases are fairly open and small, making this a fast-scoring stage. Despite its small size, it features three distinct paths from base to base. The level's name is a reference to Cirno's spell card "Icicle Fall" from Touhou Koumakyou 〜 the Embodiment of Scarlet Devil. Icicle Falls Zone was first featured in v2.0, but the bases were modified in v2.1, making it slightly harder to get to the flag.
Layout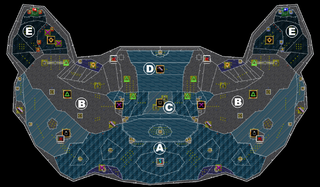 Points of interest
Weapon rings
Monitors
Technical data
 

Level header

Level F3
Levelname = Icicle Falls
Music = MP_ICE
TypeOfLevel = CTF
SelectHeading = Standard
NextLevel = F4
Skynum = 55

Level name

MAPF3 – Icicle Falls Zone

Type of level

Capture the Flag

Music

MP_ICE – Frost Columns Zone/Icicle Falls Zone

Sky number

SKY55 – Special Stage 6 (Old)

Next level

MAPF4 – Twisted Terminal Zone