Twisted Terminal Zone
This article or section is outdated and has not been updated to reflect the release of SRB2 v2.2.

Please help the Wiki by correcting or removing any misinformation, as well as adding any new information to the page.
| | |
| --- | --- |
| | This article or section is incomplete. It doesn't have all of the necessary core information on this topic. Please help the SRB2 Wiki by finishing this article. |

MAPF4, Twisted Terminal Zone, is the fifth Capture the Flag level in Sonic Robo Blast 2 v2.2. Its theme and gimmick are based on Egg Rock Zone, featuring a zoom tube that reverses the players' gravity and allows them to walk both on the floor and the ceiling of the path that connects the bases. Since the bases are adjacent to the centerpiece room and only separated by glass walls, it is possible for players to see the other team's base from their own. The stage was first featured in v2.0. In v2.1, it received a graphical overhaul and significant layout changes to the bases.
Layout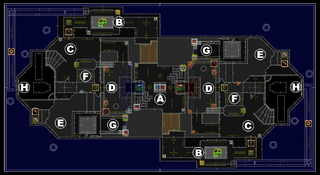 Points of interest
Weapon rings
Monitors
An SRM and a WRM are located in the middle of the centerpiece room. The SRM is on the ceiling; its base item is an Elemental Shield. The WRM is on the floor; its base item is a Whirlwind Shield.
One WRM each is located in the small room at the end of the underground area that can be reached from the staircase in each team's base, in the far left corner from the entrance. Its base item is a Super Ring Monitor.
A WRM is located on an elevated platform on the ceiling in the centerpiece room, in a corner adjacent to the blue base. Its base item is a Super Ring Monitor.
Technical data
 

Level header

Level F4
LevelName = Twisted Terminal
Music = ERZ2
TypeOfLevel = CTF
SelectHeading = Standard
NextLevel = F5
SkyNum = 22

Level name

MAPF4 – Twisted Terminal Zone

Type of level

Capture the Flag

Music

ERZ2 – Egg Rock Zone Act 2

Sky number

SKY22 – Egg Rock Zone

Next level

MAPF5 – Clockwork Towers Zone