Linedef type 258
Jump to navigation
Jump to search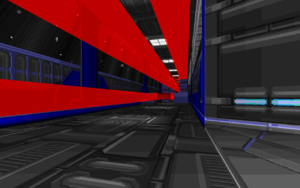 Linedef type 258, Laser, is a type of floor over floor block which acts like a laser beam. This FOF is intangible, blinks very rapidly, generates laser ambience (sound sfx_laser), and harms the player on contact with generic damage. It is commonly used with the REDWALL texture and the REDFLR flat, or other solid-color textures and flats. Lasers can be found throughout Egg Rock Zone, where they exhibit various elaborate effects and movement patterns created with the use of other linedef specials.
Setup
The flats, floor height, and ceiling height of the laser FOF are determined by the flats, floor height, and ceiling height of the control sector, and the sidedefs of the laser FOF's walls are determined by the sidedef of the control linedef. If Flag [5] / Slope Skew / Effect 1 is checked, the laser will not damage bosses.
 

Linedef special info

Floor height

Height of bottom of FOF

Ceiling height

Height of top of FOF

Linedef flags

[5] Slope Skew / Effect 1: Doesn't damage bosses
 

FOF info
Tangibility

Semi-tangible

Visibility

Solid, flashing

Shadowcasting

No

Specials

Damage

Flags

FF_EXISTS, FF_RENDERALL, FF_NOSHADE, FF_CUTEXTRA, and FF_EXTRA.

Custom FOF value

959
Aesthetic tips
It is recommended that lasers be assigned solid colors on their sides and flats, to simulate a realistic laser beam. Solid red and solid blue laser beams look the best, although yellow, orange, purple, green, and white lasers are also possible.
Sample
Example file: ex_ld258_foflaserblock.wad (MAP01)
How to use
You may load this file into your favorite map editor, such as Zone Builder. Select MAP01 as the map to load.
You may also load this file in the game:

Save ex_ld258_foflaserblock.wad into the addons folder of your SRB2 directory.
Start SRB2, go to the Addons menu, and then select ex_ld258_foflaserblock.wad.
Start the game in Single Player mode.
Press the Console button (~), and type in the command MAP MAP01 to access the example map.

When you load this file in the game, it replaces Greenflower Zone Act 1.
 
Linedef types – Floor over floor
[view]
Solid:
Solid, Opaque, Shadowcasting • Solid, Opaque, Non-Shadowcasting • Solid, Translucent • Solid, Sides Only • Solid, No Sides • Solid, Invisible • Intangible from Bottom, Opaque • Intangible from Bottom, Translucent • Intangible from Bottom, Translucent, No Sides • Intangible from Top, Opaque • Intangible from Top, Translucent • Intangible from Top, Translucent, No Sides • Only Tangible from Sides

---

Intangible:
Water, Opaque • Water, Translucent • Water, Opaque, No Sides • Water, Translucent, No Sides • Goo Water, Translucent • Goo Water, Translucent, No Sides • Intangible, Opaque • Intangible, Translucent • Intangible, Sides Only • Intangible, Invisible

---

Moving:
Air Bobbing • Air Bobbing (Adjustable) • Reverse Air Bobbing (Adjustable) • Dynamically Sinking Platform • Floating, Bobbing • Rising Platform, Solid, Opaque, Shadowcasting • Rising Platform, Solid, Opaque, Non-Shadowcasting • Rising Platform, Solid, Translucent • Rising Platform, Solid, Invisible • Rising Platform, Intangible from Bottom, Opaque • Rising Platform, Intangible from Bottom, Translucent

---

Crumbling:
Crumbling, Respawn • Crumbling, No Respawn • Crumbling, Respawn, Intangible from Bottom • Crumbling, No Respawn, Intangible from Bottom • Crumbling, Respawn, Intangible from Bottom, Translucent • Crumbling, No Respawn, Intangible from Bottom, Translucent • Crumbling, Respawn, Floating, Bobbing • Crumbling, No Respawn, Floating, Bobbing • Crumbling, Respawn, Floating • Crumbling, No Respawn, Floating • Crumbling, Respawn, Air Bobbing

---

Special:
Light Block • Half Light Block • Fog Block • Mario Block • Thwomp Block • Shatter Block • Shatter Block, Translucent • Bustable Block • Spin-Bustable Block • Spin-Bustable Block, Translucent • Quicksand • Laser • Custom FOF