Noxious Factory Zone
This article or section is outdated and has not been updated to reflect the release of SRB2 v2.2.

Please help the Wiki by correcting or removing any misinformation, as well as adding any new information to the page.

MAPM1, Noxious Factory Zone, is the second Match level in Sonic Robo Blast 2 v2.2. It takes place in a THZ-themed factory and its surrounding outside area. The main focus of the map lies on the large pools of viscous slime both inside and outside the factory, and conveyor belts which modify the players' movement. Falling into the slime causes players to bounce in and out of it for a few seconds, making them more vulnerable to their opponents' shots, but it also hides a few beneficial items. The map first appeared in v1.09, where it was entirely indoors and had damaging slime. It was removed in v1.09.4. For v2.0, parts of the original map were combined with a new outdoor area to form the current version of the map. For v2.1, the damaging slime was replaced with the viscous slime that is also used in Techno Hill Zone.
Layout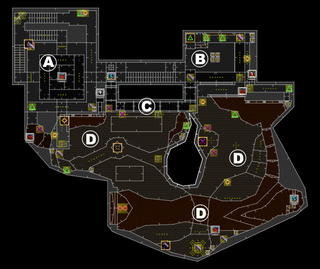 Points of interest
Weapon rings
Monitors
Tails/Knuckles areas
Sonic can access all of these areas, aside from the SRM shortcut. The Rail and Scatter Ring in the conveyor belt room can be obtained with monitor bouncing, all other areas require a Whirlwind Shield.
Technical data
 

Level header

Level M1
LevelName = Noxious Factory
Music = THZ1
TypeOfLevel = Match,Tag
SelectHeading = Standard
NextLevel = M2
SkyNum = 4

Level name

MAPM1 – Noxious Factory Zone

Type of level

Match, Tag

Music

THZ1 – Techno Hill Zone Act 1

Sky number

SKY4 – Techno Hill Zone Act 1

Next level

MAPM2 – Tidal Palace Zone