Desolate Twilight Zone
Jump to navigation
Jump to search
This article or section is outdated and has not been updated to reflect the release of SRB2 v2.2.

Please help the Wiki by correcting or removing any misinformation, as well as adding any new information to the page.

MAPM4, Desolate Twilight Zone is the fifth Match level in Sonic Robo Blast 2 v2.2. It is a small and open desert-themed stage with few rings that debuted in the May/June 2005 OLDC as Nocturnal Sahara Zone, where it placed first with a score of 9.14. It was subsequently renamed and added to the game, and received a graphical overhaul in v2.0. Its layout is circular, with a tall centerpiece structure around which two outdoor rooms are wrapped. It also contains three platforms floating high up in the air which Sonic cannot access by normal means.
Layout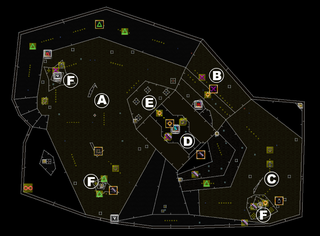 Points of interest
Weapon rings
Monitors
Tails/Knuckles areas
Technical data
 

Level header

Level M4
LevelName = Desolate Twilight
Music = MP_DES
TypeOfLevel = Match,Tag
SelectHeading = Standard
NextLevel = M5
SkyNum = 21

Level name

MAPM4 – Desolate Twilight Zone

Type of level

Match, Tag

Music

MP_DES – Desolate Twilight Zone

Sky number

SKY21 – Egg Rock Zone Act 1 (Old)

Next level

MAPM5 – Infernal Cavern Zone