Frost Columns Zone
This article or section is outdated and has not been updated to reflect the release of SRB2 v2.2.

Please help the Wiki by correcting or removing any misinformation, as well as adding any new information to the page.

MAPMA, Frost Columns Zone, is the eleventh Match level in Sonic Robo Blast 2 v2.2. It is set in an ice-themed environment, featuring slippery ice segments, buildings made out of ice blocks and an outside area with dense snow layers. The stage was entered into the November/December 2009 OLDC, in which it came in first with a score of 7.86. It was added to the Match rotation in v2.0.5, and was completely retextured for v2.1. The name is a reference to Cirno's spell card "Frost Columns" from Touhou Youyoumu ~ Perfect Cherry Blossom. Cirno's wings are also engraved in the ground just below the location of the Scatter Ring Panel.
Layout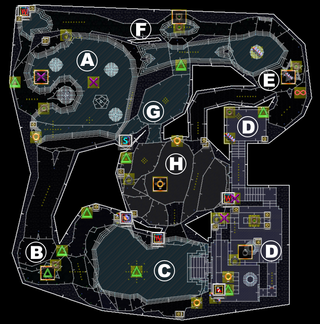 Points of interest
Weapon rings
Monitors
Tails/Knuckles areas
Technical data
 

Level header

Level MA
LevelName = Frost Columns
Music = MP_ICE
TypeOfLevel = Match,Tag
SelectHeading = Standard
NextLevel = MB
Weather = 2
SkyNum = 6

Level name

MAPMA – Frost Columns Zone

Type of level

Match, Tag

Music

MP_ICE – Frost Columns Zone/Icicle Falls Zone

Sky number

SKY6 – Techno Hill Zone Act 2

Weather

Snow

Next level

MAPMB – Meadow Match Zone