Sapphire Falls Zone
This article or section is outdated and has not been updated to reflect the release of SRB2 v2.2.

Please help the Wiki by correcting or removing any misinformation, as well as adding any new information to the page.

MAPM7, Sapphire Falls Zone, is the eighth Match level in Sonic Robo Blast 2 v2.2. It is a Green Hill-themed stage that consists of a river that leads into a small lake, as well as its riverbanks, which are connected by two bridges. The river cannot be escaped by normal means and thus must be followed to the end if fallen into. The map has an unusually high amount of rings, leading to very intense fights. Sapphire Falls Zone debuted in v1.08, where it was GFZ-textured and had symmetrical riversides. It received a layout update to break the symmetry and a retexturing in v2.0.
Layout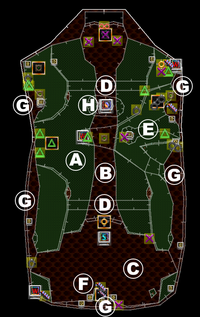 Points of interest
Weapon rings
Monitors
Tails/Knuckles areas
Sonic can reach all these areas by monitor bouncing, but this is very difficult to achieve, especially in netgames. The main technique for players to launch themselves upwards is bouncing on the monitors next to the big waterfall and then using the low gravity inside the waterfall to increase the bouncing height.
Technical data
 

Level header

Level M7
LevelName = Sapphire Falls
Music = MP_GHZ
TypeOfLevel = Match,Tag
SelectHeading = Standard
NextLevel = M8
SkyNum = 2

Level name

MAPM7 – Sapphire Falls Zone

Type of level

Match, Tag

Music

MP_GHZ – Sapphire Falls Zone

Sky number

SKY2 – Greenflower Zone (Old)

Next level

MAPM8 – Diamond Blizzard Zone