Diamond Blizzard Zone
Jump to navigation
Jump to search
This article or section is outdated and has not been updated to reflect the release of SRB2 v2.2.

Please help the Wiki by correcting or removing any misinformation, as well as adding any new information to the page.

MAPM8, Diamond Blizzard Zone, is the ninth Match level in Sonic Robo Blast 2 v2.2. It is a very large, multi-leveled stage that takes place in a snow-themed palace and its surrounding outdoor areas. It debuted in the May/June 2010 OLDC, where it won the Match division with a score of 7.88. The name is a reference to Cirno's spell card "Diamond Blizzard" from Touhou Koumakyou ~ the Embodiment of Scarlet Devil.
Layout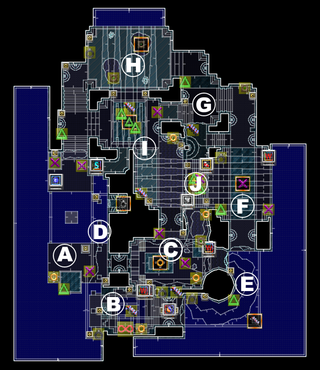 Points of interest
Weapon rings
Monitors
Tails/Knuckles areas
Technical data
 

Level header

Level M8
LevelName = Diamond Blizzard
Music = MP_AIR
TypeOfLevel = Match,Tag
SelectHeading = Standard
NextLevel = M9
Weather = 2
SkyNum = 55

Level name

MAPM8 – Diamond Blizzard Zone

Type of level

Match, Tag

Music

MP_AIR – Nimbus Ruins Zone/Diamond Blizzard Zone

Sky number

SKY55 – Special Stage 6 (Old)

Weather

Snow

Next level

MAPM9 – Celestial Sanctuary Zone