Jade Valley Zone
This article or section is outdated and has not been updated to reflect the release of SRB2 v2.2.

Please help the Wiki by correcting or removing any misinformation, as well as adding any new information to the page.

MAPM0, Jade Valley Zone, is the first Match level in Sonic Robo Blast 2 v2.2. It consists of various GFZ-themed outdoor areas connected by small tunnels, and with a small cave acting as the focal point and centerpiece. The stage was originally added to the game in v1.09, but it was taken out in v1.09.4 because it was too asymmetrical for the old Match system. With the new system that encourages non-symmetrical layouts in place, a reworked version of Jade Valley Zone was re-added to the rotation in v2.0.
Layout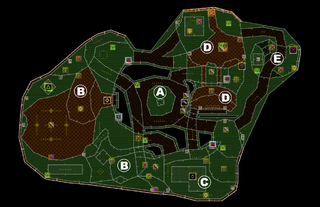 Points of interest
Weapon rings
Monitors
Tails/Knuckles areas
Technical data
 

Level header

Level M0
LevelName = Jade Valley
Music = MP_SUN
TypeOfLevel = Match,Tag
SelectHeading = Standard
NextLevel = M1
SkyNum = 1

Level name

MAPM0 – Jade Valley Zone

Type of level

Match, Tag

Music

MP_SUN – Jade Valley Zone

Sky number

SKY1 – Greenflower Zone

Next level

MAPM1 – Noxious Factory Zone