Linedef type 407
Jump to navigation
Jump to search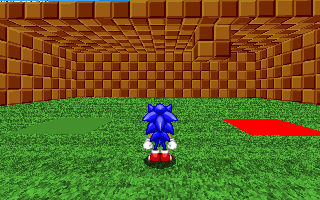 Linedef type 407, Move Ceiling According to Front Texture Offsets, is a type of linedef executor which, when triggered, moves every tagged sector's ceiling by a specified amount and speed. This linedef works better than linedef type 404 in situations where multiple sectors of different heights must move together at an equal speed and distance.
Setup
The speed of the movement is determined by the control linedef's front texture X offset (an offset of 1 equals 0.125 fracunits per tic). If Flag [6] / Not Climbable is checked, the movement will be instant. The amount to move the ceiling by is determined by the control linedef's front texture Y offset. Positive values cause the ceiling to be raised, negative values cause it to be lowered.
 

Linedef special info

Front texture X offset

Speed (1 FU/8 tics per FU offset)

Front texture Y offset

Amount to move (positive values mean up, negative values mean down)

Linedef flags

[6] Not Climbable: Movement is instant
Sample
Example file: ex_ld407_moveceilingaccordingtofronttextureoffsets.wad (MAP01)
How to use
You may load this file into your favorite map editor, such as Zone Builder. Select MAP01 as the map to load.
You may also load this file in the game:

Save ex_ld407_moveceilingaccordingtofronttextureoffsets.wad into the addons folder of your SRB2 directory.
Start SRB2, go to the Addons menu, and then select ex_ld407_moveceilingaccordingtofronttextureoffsets.wad.
Start the game in Single Player mode.
Press the Console button (~), and type in the command MAP MAP01 to access the example map.

When you load this file in the game, it replaces Greenflower Zone Act 1.
---