Linedef type 422
Jump to navigation
Jump to search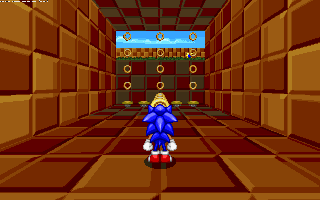 Linedef type 422, Switch to Cut-Away View, is a type of linedef executor which, when triggered, switches the camera scene of the player who triggered it to a view from a different place for a specified length of time. Note that this linedef executor has no effect if it is activated by a non-player Object, e.g., a pushable Object.
Setup
This linedef should be tagged to the desired target sector within the map. This target sector should also contain an Alternative View Point. The Z-offset of the Alternative View Point will determine the height of the cut-away view. The Angle of the Alternative View Point will adjust the angle of the cut-away view. The length of the control linedef indicates how long to stay in this view, in tics.
If Flag [6] / Not Climbable is checked, you can also adjust the pitch (vertical viewing angle) of the cut-away view. In this case, the pitch will be determined by the control linedef's front texture X offset. The angles are expressed in degrees, so the offset should be between -90 and 90.
If this linedef executor is triggered in a titlemap, where no player exists, the camera view is changed indefinitely, regardless of the specified time.
 

Linedef special info

Linedef length

Time to change view

Front texture X offset

Camera pitch in degrees (if [6] Not Climbable is checked)

Linedef flags

[6] Not Climbable: Makes pitch adjustable
Sample
Example file: ex_ld422_cutawayview.wad (MAP01)
How to use
You may load this file into your favorite map editor, such as Zone Builder. Select MAP01 as the map to load.
You may also load this file in the game:

Save ex_ld422_cutawayview.wad into the addons folder of your SRB2 directory.
Start SRB2, go to the Addons menu, and then select ex_ld422_cutawayview.wad.
Start the game in Single Player mode.
Press the Console button (~), and type in the command MAP MAP01 to access the example map.

When you load this file in the game, it replaces Greenflower Zone Act 1.
---