Linedef type 411
Jump to navigation
Jump to search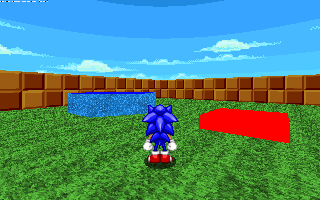 Linedef type 411, Stop Plane Movement, is a type of linedef executor which, when triggered, stops any floor or ceiling movement in every tagged sector. However, this will not stop the sector movement started by linedef type 52.
Sample
Example file: ex_ld411_stopplanemovement.wad (MAP01) 
Stepping on the red button will make the blue sector's floor stop moving.
How to use
You may load this file into your favorite map editor, such as Zone Builder. Select MAP01 as the map to load.
You may also load this file in the game:

Save ex_ld411_stopplanemovement.wad into the addons folder of your SRB2 directory.
Start SRB2, go to the Addons menu, and then select ex_ld411_stopplanemovement.wad.
Start the game in Single Player mode.
Press the Console button (~), and type in the command MAP MAP01 to access the example map.

When you load this file in the game, it replaces Greenflower Zone Act 1.
---